A teenager's guide to the side hustle
Fancy earning money doing things you enjoy, and can fit in around your other commitments? A side hustle could be right up your street. Journalist Ruth Bushi explains how it works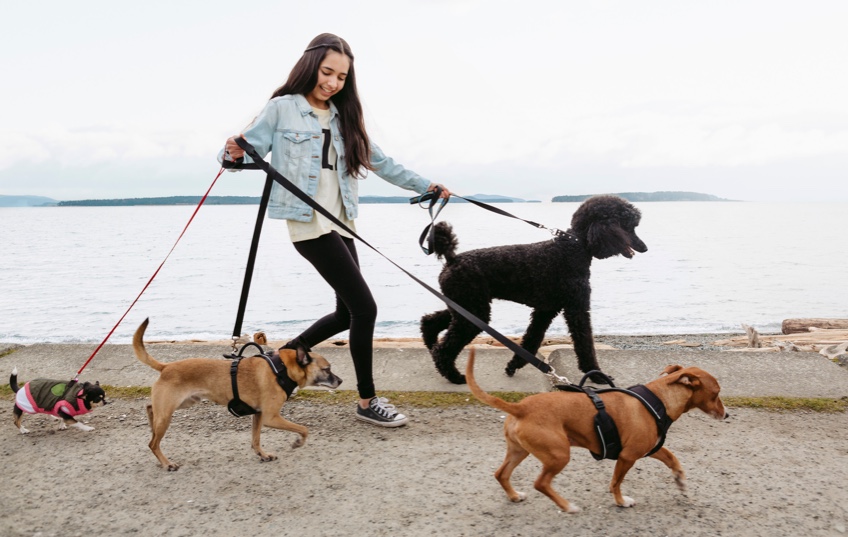 A side hustle is a part-time job you get to pick and manage for yourself. The good news is, it means you're the boss of you – but you also have to keep yourself on track to make a go of it. The best part is, side hustles give you the chance to work alongside your studies, an apprenticeship or full-time job commitments, and you can start one whenever you like – for extra cash, work experience or just as something to do. And while a side hustle might start out as a way to make some extra cash, some go on to become successful enough to turn into full-time careers. So, whether you want a bit of fun or a business empire, there's a gig out there for you.
How much does it pay?
According to a 2023 survey by Finder.com1, 76% of Gen Z have a side hustle outside of their regular income – with an average weekly income of £223.
It can also take time to get clients, find work or get into the swing of things – so you could earn nothing at all at first, then anything from a few quid to a few hundred pounds a go. But even when you're starting out, your side hustle will give you work experience and personal satisfaction – just remember they don't always mean fast or regular cash.
Think you might need seed money or advice to get your ideas off the ground? The Prince's Trust Enterprise scheme offers business grants and support for 18-30s, while the NatWest Dream Bigger programme offers free entrepreneurial skills training for 16-18-year-old females. Try searching online for your situation – you might be surprised what you find.
If you're looking for a second job to help cope with money worries, make sure you grab any advice and support funds going as well. Citizens Advice can help with this.
2. What makes a good side hustle?
Lindsay McGlone, 23, has a side gig helping businesses run social media, specifically placing emphasis on inclusivity and accessibility. She says the secret is to "do something you're passionate about. That's how something becomes sustainable."
So how do you work out what that is? Ask yourself:
What do you love doing so much it doesn't feel like work?
What are you good at?
When and how often will you work?
Do you want to be the boss or work for someone else?
Set a timer for 10 minutes and write down as many answers as you can think of for each question. For instance, you might dream of being a paid musician, being really creative, or only want occasional bar work without a lot of admin. Once you have your list, do some research to suss out how other people with your interests bring in extra cash.
Cleaning up
At 14, Archie Major is already an entrepreneur. He co-founded castaway-cottage.co.uk to sell bath bombs and shampoo bars, having first started making Christmas presents for family. Now, he runs a limited company and has been shortlisted for awards.
Archie, who has autism, says, "My aim is to create a business generating enough revenue to give me a full-time, paid job when I leave school." His best advice is to "work with people who think on the same lines as you and you can share ideas with".
3. Side hustle ideas to borrow or adapt
Remote work
If the pandemic has shown us anything, it's that you can teach almost anything online using WhatsApp or Zoom. Hobbies, study skills and music are all good for this.
Have a flair for social media? Sell your skills to other businesses or monetise your channel with advertising or sponsored content.
Face-to-face
Offer to do the jobs that people in your area don't always have time for, such as dog-walking, car-washing and gardening.
If you have a bike or car, offering to deliver or pick up parcels could work for you. Or consider renting out things you own, from by-the-sheet printer access to party supplies.
Shift work
Freelance platforms like Fiverr and Airtasker can connect you with clients for voiceovers, web design, removals work, and lots more. You could discover a skill you never knew you had.
Apps such as GIG and IndeedFlex offer temporary work in a range of industries, including retail, hospitality and events. Why not download the app and look at what's available near you?
4. The next step
Think your business will be making something? Decide what to sell and for how much – do some research to see what people are interested in buying and willing to spend. If you have to pay for materials, build these into your price. However, try to avoid any unnecessary costs at the beginning.
Spread the word about your business online or in local shops. Try to go where your clients are. Alternatively, sign up with apps or websites that offer the kind of work you're after.
5. It doesn't have to be complicated
Even selling things you no longer need via eBay or second-hand shopping apps can be a nice earner. Use a bit of your earnings to buy more stock to sell for a profit, then keep going.
Lindsay McGlone adds, "Look at the money as 'extra', not as an income". This is a good way of building up business funds and savings, rather than spending the cash straight away.
It's also worth remembering that you may need to register as a sole-trader and pay income tax on the money you make, so keep records of everything you spend or earn from your side hustle.
Three tips for successful side hustling
Fancy starting a side hustle of your own? Kyra Hazell, 20, studies business management at Coventry University and runs cultureclubshop.com in her spare time, selling lifestyle products inspired by African and Caribbean culture. Her top tips are:
"Plan your business before you launch – don't rush into it. It took me six months of research, finding suppliers, and attending workshops and webinars. I also asked existing business owners about the best platforms to use."
"Set yourself targets and goals, and don't be afraid to ask for help in reaching them. My first goal was to make a sale! After that I set monthly sales targets and objectives to help grow the business, like creating new products and sending weekly marketing emails."
"There will be challenges and times when you feel demotivated, but don't give up. Keep taking small steps and you'll get there. I sometimes feel overwhelmed doing uni work and running the business, but when that happens, I take time out, do something fun or talk to someone about the problem. But I love my business, and I'm committed to making it a success."