Avoiding fraud and online scams
Learn about different kinds of identity theft and fraud, and how to avoid them, as well as their emotional and financial consequences.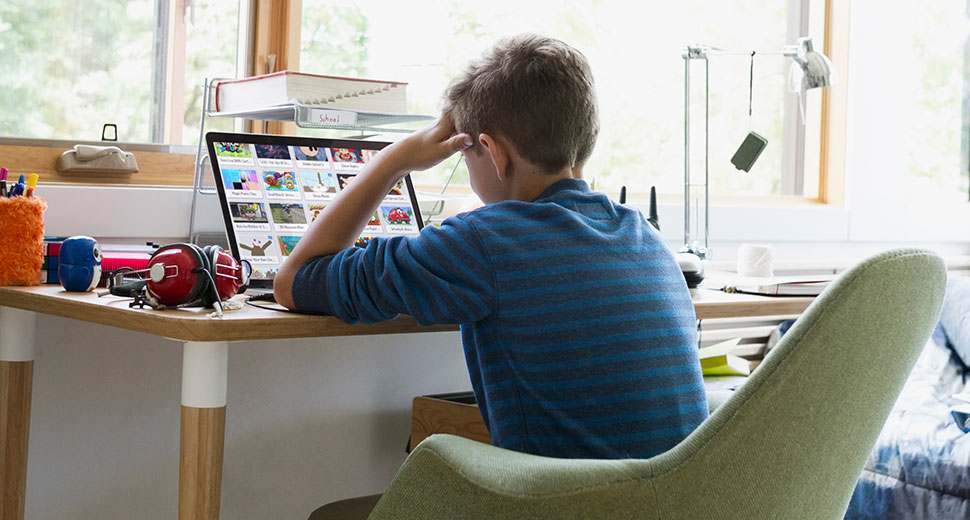 A new playground
The act of fraud, or tricking another person out of their money, has been around for centuries. The difference is that the internet is a relatively recent invention, so it's a whole new playground for fraudsters. Ofcom research shows that 97% of 12- to 15-year-olds have a mobile phone, and 89% have their own social media profile, it's no wonder that parents of teens are concerned.
The good news is that most teenagers are wiser than we realise, and becoming more so with each passing year. However, where there is money there will always be new types of fraud.
To help your teen be a savvy online surfer, you could start by equipping yourself with key information and terminology that you can pass on to your child.
Common frauds and scams
Here is a list of the most common ways criminals obtain our personal details in order to commit online fraud:
Phishing, smishing and vishing – you've probably heard of 'phishing', where scammers send emails that are designed to look like official correspondence from organisations such as your bank or HMRC. They want to trick you into sharing personal details by clicking on links asking you to log into fake sites so they can steal your passwords and information.
'Smishing' is the text message equivalent of phishing, and 'vishing' is where you get a phone call or automated voice call from a scammer. You might get a message claiming you've got a parcel and you need to visit a website to pay a shipping fee or asking you to authorise or cancel a payment you know nothing about. Before you click on any link, or give away any personal information, ask yourself "could this be a scam?".
There has been an increase in malicious links and files distributed by SMS recently, so if you're not sure, search online to check if it's a known campaign, and don't click on any links until you've checked it is safe to do so. Scammers go to great lengths to make things look like official messages from banks, service providers, and even HMRC, so you need to be very careful.
Fake news – scammers use fake news to 'bait' people into clicking through to a website, where they will earn revenue via 'click throughs'. However, some fake news may lead to a site with a computer virus to steal personal information.
Hacking – hackers use weaknesses in computer security to hack into personal computer files.
Malware – the most common way that you might be affected by malware is by using gaming and streaming sites. It's designed to cause harm to your computer in some way, usually by spreading viruses, causing errors or slowing it down.
Spyware – a specific type of Malware that spies on your online activity with the sole aim of acquiring personal information such as usernames and passwords.
Social media sites – fraudsters harvest personal information posted publicly on these sites or may request access to photos, contacts and personal information via apps or in return for the chance to win prizes.
Prize draws – a notification arrives by email, text or in the post, telling the receiver that they've won a prize, and to send a small amount of money, or to provide bank details or prove their identity to claim the 'prize'. Alternatively, they might be told to ring a number to claim the prize and this will be a premium number.
Rummaging through the rubbish – thieves and fraudsters will look for items containing personal information to use to steal identities.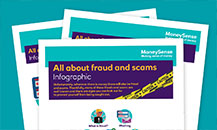 Money mule schemes
This is a relatively new form of online fraud, but its prevalence is increasing at an alarming rate, especially among the young, with a 78% increase in the number of under-21 money mules in 2021 compared to 2020. For the uninitiated, being a 'money mule' is when criminals fool a victim into transferring funds from their account into another with the offer of keeping some of the money for themselves. The 'mules' are often totally unaware that by doing this they are committing the crime of money laundering. And the money is usually the proceeds of criminal activities such as illegal drugs, pornography, other scams and even human trafficking. Download our Money mules fact sheet and share the information with your child.
12 ways to stay safe online
As a general rule, it's worth telling your child that if an offer sounds too good to be true, it probably is – there is no such thing as free, quick or easy money. Here's some more advice for children (and adults!) to help protect them online, especially if they have or will soon be getting their own bank account and using it to make online purchases:
Only shop on websites of well-known and trusted retailers
Always check out a website's rating and reviews to see if they have a good reputation for sending goods and for returns – you might find out that other people have already been scammed
Beware of misspelled names in the address bar
Go online to check your bank account regularly and alert your bank straightaway if you notice any transactions that you didn't make
Contact your bank immediately if you lose your card
Always be suspicious if you are contacted unexpectedly by a company or person that you have never heard of, especially if the company lacks clear contact details e.g. only includes a mobile number or a PO box address, and if they are insisting that you need to make a quick decision
When selling online, never send goods until you receive full payment
Never send money, give your personal details or call a number if you don't recognise the sender. You can't win a lottery or a draw you haven't entered!
Choose companies whose payment pages have security encryption – look out for a padlock in the address bar and check that the address starts with https:// (instead of http://).
Don't shop online in a public place where someone else could see you input your personal details
Use strong passwords that contain a combination of numbers, letters and special symbols
Don't share personal information such as birthdays or parents' names – online stores don't need these details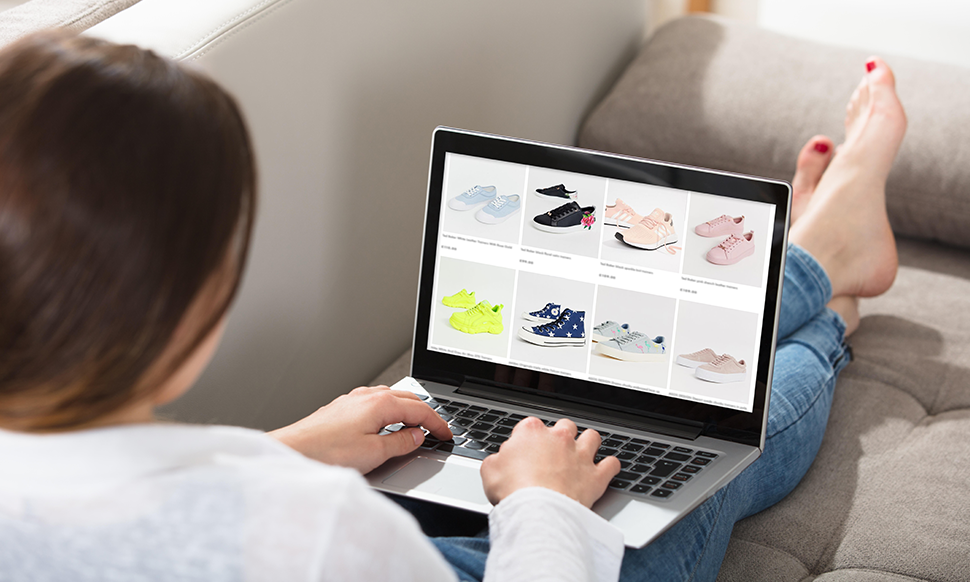 The future is bright
Despite all the doom and gloom, it is refreshing to know that our teens are more 'clued up' on online safety than we realise. Ofcom's 2022 media use and attitudes report found that while the majority of 12-17s were confident that they could tell what is real and fake online, only 11% correctly identified the components of a social media post which reflected that it was genuine. Regarding scams, fraud or unpleasant content, over a third (36%) of children aged 8-17 said they had seen something 'worrying or nasty' online in the past 12 months. Six in ten said they would always tell someone about this (59%), and 93% said they would do this 'sometimes'.
The vast majority (94%) of children aged 12-17 were aware of at least one safety feature to help keep themselves safe online and 84% had put these into practice, with 'blocking' people on social media having the highest levels of awareness and use.
Young people are most likely to be taught about internet safety advice by their parents or teachers. 61% are aware of risky behaviours online, and 35% use tools such as 'incognito' mode, avoid parental controls or use proxy servers. No matter how wise our teens are becoming it is still worth parents persevering on the subject of online safety.
Useful websites
If you are a victim of fraud or suspect fraudulent behaviour, these organisations are there to help:
Take Five is UK government-backed campaign offering simple advice to help you protect yourself from preventable financial fraud.
Don't Be Fooled is a partnership between UK Finance and Cifas. It aims to inform students and young people about the risks of giving out their bank details, and deter them from becoming money mules.
Action Fraud - Action Fraud is the UK's national reporting centre for fraud and cybercrime where you should report fraud if you have been scammed, defrauded or experienced cyber-crime in England, Wales and Northern Ireland.
Find out about all the latest MoneySense articles for parents by following us on Facebook
Related activities
Want your child to find out more for themselves? Here are some activities to share with them.